Munchkin Shoes
Product # FUN3001BKAD
Size
Measurement
Standard
Metric
X-Small
Footbed (heel to toe)
8 1/2"
22cm
X-Small
Toe Width
3"
8cm
X-Small
Approx Shoe Size (US)
W 5-6
W 5-6
Small
Footbed (heel to toe)
9 1/2"
24cm
Small
Toe Width
3 1/2"
9cm
Small
Approx Shoe Size (US)
W 7-8 / M 6-7
W 7-8 / M 6-7
Medium
Footbed (heel to toe)
10 1/2"
27cm
Medium
Toe Width
3 3/4"
10cm
Medium
Approx Shoe Size (US)
W 10-11 / M 9-10
W 10-11 / M 9-10
Large
Footbed (heel to toe)
11"
28cm
Large
Toe Width
4 1/2"
11cm
Large
Approx Shoe Size (US)
W 12 / M 11-12
W 12 / M 11-12
X-Large
Footbed (heel to toe)
12"
30cm
X-Large
Toe Width
4 3/4"
12cm
X-Large
Approx Shoe Size (US)
M 13-14
M 13-14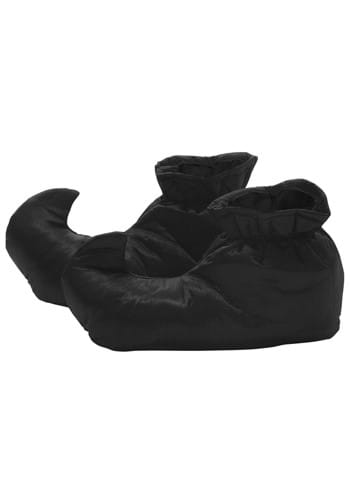 These flexible black munchkin shoes are a perfect fit for your munchkin costume. The shiny polyester shoes have an elastic band at top to make them easy to slip on and off. The shoes are shaped perfectly and have a curled tip in true munchkin style. The sole is made of vinyl, and the interior is lined with foam padding to help the shoes keep their shape and make them comfortable to wear.
100% polyester

Elastic ankle band

Satin finish uppers

Thin faux leather soles

*NOTE: not recommended for outdoor use

Exclusively, made by us!
This product has restrictions that limit the countries that we can ship to. This product cannot be shipped to Mexico